JZ Tours Presents The Reagan Years — March 22
Bookmark this
Dance the night away to your favorite 80s hits!
"The Reagan Years recreates the sounds of the 1980s; Talented musicians with very diverse vocal abilities enables this group to replicate uncanny versions of the Pop, Rock, New Wave and Heavy Metal hits of the M-TV Era. Bon Jovi , Madonna, Devo, Joan Jett, Def Leppard, Duran Duran, Billy Idol, Journey, Modern English, Guns 'N Roses, A-Ha and ZZ-Top, and with the sax; Hall & Oates, Men At Work, INXS and Huey Lewis, the band covers all the mega-artists! You will sing along to every song! Since 1996, The Reagan Years has been delighting sold out crowds throughout the East Coast and entertaining 80's events as far away as Hawaii and country of Panama."
Doors open @ 6:45 pm
EJ the DJ 7 pm – 8:45 pm
The Reagan Years @ 9 pm featuring: Karen Ellison – Keys, Vocals, Nat Doegen – Vocals, Acoustic Guitar, Glenn Riley – Guitars, Vocals, Jody Lewis – Bass, Vocals, Sy Seyler – Drums, Vocals, Scott Benford – Saxaphone, Harmonica, Raychel Harvey – Vocals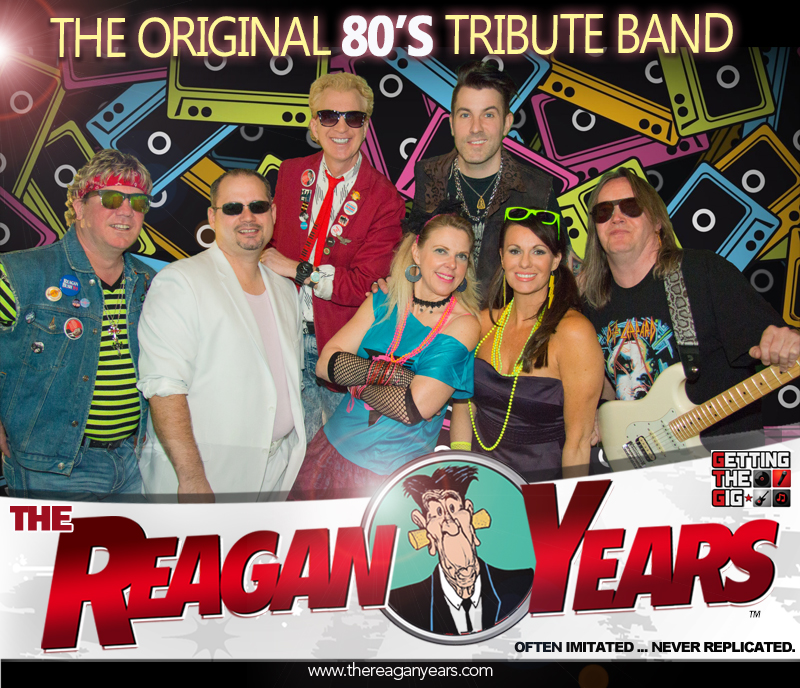 Coors Light will be on special and there will be food available to purchase.
This event will be held in the Main Ballroom with plenty of room to dance to your favorite hits!
VIP Seat (at table near stage) – $30 pp
General Seat (at a non-VIP table) – $25 pp
VIP Table Deal (buy 9 seats get 10th free) $270
General Table Deal (buy 9 seats get 10th free) $225
General Admission/Standing Only tickets – $20 pp
ALL PRE-PURCHASED TICKETS WILL BE AVAILABLE AT THE WILL CALL TABLE IN RESERVATION NAME.
Please list people you would like at the end of your order, so that we can do our best to accomodate your requests.
Looking for a great room to spend the night after dancing the night away with us?
Call The Hilton today at 570-343-3000 and mention this JZ Tours event for a great rate!
Click here to get your tickets
---